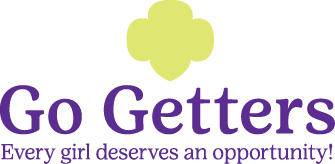 Girl Scouts offers every girl a chance to practice a lifetime of leadership, adventure, and success. With our Go Getter outreach program we have been successful in engaging girls from low income neighborhoods into the Girl Scout program. We offer the Girl Scout experience to girls in Title 1 schools, low income rural communities, and community centers. With financial hardship hitting many of the families this past two years we grew our Go Getters program, and are positioned to offer even more girls the opportunity to participate in Girl Scouts with no expense out of pocket.  The demand for this program is higher than ever, and our goal as a council is to have 10% of our girl members as part of the Go Getter program.
As a Go Getter they will build friendships with other girls and belong regardless of their socio economic status. We teach girls how to make decisions and work as a team, build confidence in themselves, provide hands on work with STEM, spend time outdoors, and learn about entrepreneurship through cookie sales. Our studies show that this whole child approach works. Alums report higher academic attainment and income, greater community service and civic engagement, and a stronger sense of self.
We want to reach girls in high poverty areas and give them access to Girl Scouts. Poverty is one of the most widely used indicators of child well-being and has wide ranging negative effects on children's health, educational achievement, and safety.
Traditionally, Girl Scout troops rely heavily on parental support and volunteering. In many high-poverty communities there is a lack of support and the financial burden on families are cited obstacles to participation, which Go Getters overcomes